The British Coat-of-Arms is the Coat-of-Arms of the 12 tribed Kingdom of Israel and Christ their Rightful KING.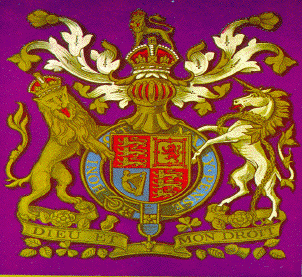 The
TRUE
Israel People have, on their "Coat-of-Arms", a
Lion
and a
Unicorn
which is shown as a
white horse
"rampant" with one
horn
. The amber
Lion
"rampant" on the left-side is the emblem of the two-tribed
"House of Judah"
and the
Unicorn
or white Wild-Ox "rampant" on the right-side is the emblem of the ten-tribed "House of Israel", collectively making the 12-tribed "
Kingdom of Israel
".
The
word
British is Hebrew. It means "
the People of the Covenant
" or in other words "
the People Israel
", whose
written
Constitution; under that Covenant, that they have rejected to their own loss; is written in the Bible (Israel's Book) that they still swear on to tell the Truth, but whose Constitution, under which there are
no poor people
, is then foolishly rejected by almost everyone, in favour of inferior and unjust, man-made laws and economics
which
cause poverty
and therefore also
crime
brought about by deprivation and desperation.
The Israelite tribe of Joseph (of the coat of many Colours/Coats-of-Arms) to whom Jacob/Israel gave his new name Israel and his Unicorn-Emblem (Deuteronomy 33:16-17) and the "Coat of Many Colours (many Coats-of-Arms
*
)", is, in fact, divided into two:-
Ephraim and Manasseh
.
Deuteronomy 33:16 And for the precious things of the earth and fullness thereof, and [for] the good Will of Him that dwelt in the bush: let [
"The Blessing"
] come upon the head of
Joseph
, and
the
CROWN
upon the head of him [that was] separated from his brethren (Gen. 49:10 & 22-24).
33:17 His glory [is like] the firstling of his bullock, and his horns [are like] the horns of
UNICORNS
: with them he shall push the people together to the ends of the earth: and they [are] the ten thousands of Ephraim, and they [are] the thousands of Manasseh.
Read the entire article
here
.